He asked me this as we were weaving through traffic to a wedding this morning.
I shrugged and said, "I do. Not sure about other women…" I'd just spent an hour curling my long hair in preparation for my Blair Waldorf look. In my mind, I secretly recalled the hatching of the concept just about a couple months back.
It first started with a dress I bought on ASOS. I found it via a search for "Peter Pan collar", because well… I love Peter Pan collars. They remind me of my primary school uniform. I hated it back then, but I now find them oh so cute. They have since changed the uniform into something hideous.
But I digress.
That was about 3 months ago, as I went through a crazy dress-buying phase. I kept the dress for an appropriate occasion to wear. Probably a lunch wedding.
So there were 2 weddings coming up, one's a lunch and one's a dinner. It was a no-brainer. So what hair do I wear for such dresses? I wore an updo for the dinner – something glam for night, coupled with scary smokey eyes. For the lunch – it was time to let my hair down… and with that preppy collared dress, I'd need preppy hair to match.
I've never liked Gossip Girl, found it frivolous and pointless. But I could never take my eyes off Blair Waldorf's style. Headbands! Big fluffy curls! Cute girly dresses!
Perhaps it was turning 30 that turned me into someone who wants to be a schoolgirl again. Oh, dreams.
So I bought 3 headbands from a cheapo shop with a surprisingly pretty range of headbands that didn't look that cheapo to choose from. They were selling 3 for $5. So grabbed them I did.
Then I needed the curls. My naturally wavy hair just wasn't vavavoom curly enough. So I had to get myself a pair of curling tongs. Couldn't bear to plonk money down on one (I'm cheapo, remember?) so I borrowed one from my colleague. I singed my fingers a few times and tangled my hair in the curling iron a few times. I also lost a bit of hair. *clutches desperately at broken hair*
Long story short… here's my hair.
It wasn't as big and fluffy as hers, but I guess with a pair of fatter curling tongs I might be able to achieve better effects.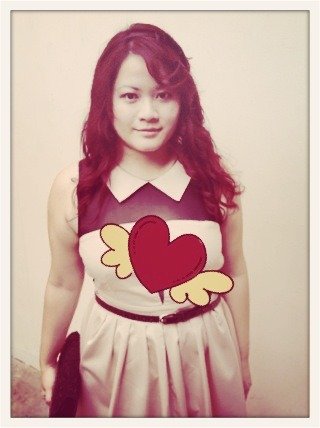 My waist-length hair was hidden behind… but you can see the collar from here (not exactly Peter Pan, but school-girly enough… And yes, there was a nasty cleavage that I am not sharing.

Here's a fuller version… I didn't take a photo of the back. Damn.
So yeah. I did plan quite far ahead, because it's nice to put on make up and costume for loads of photo-taking opportunities! Hur hur hur. I liked the outcome and so did he. And so did my friends at the wedding.
Good effort, I supposed!