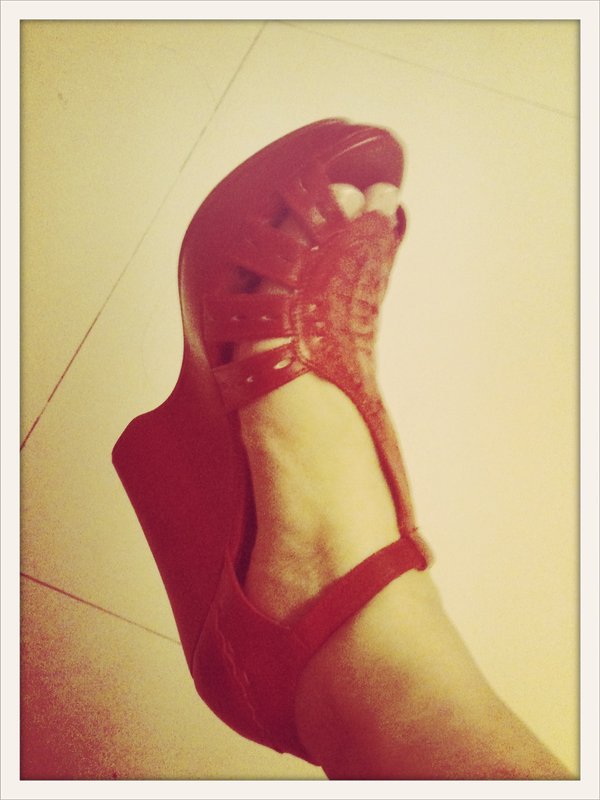 My latest pair of shoes
I went on a self-imposed shoe ban for the most part of the year. I had to throw out several pairs of shoes that had one or more of the following qualities:
1. Freakishly uncomfortable
2. Made of super cheap and lousy material which peeled in storage
3. Tore themselves apart once I wore them out (usually freakishly uncomfortable)
I don't think I will be buying cheapo shoes, unless they are good brands going under super discounts… or I'll pass. Or if they are freakishly chic AND comfortable.
Once I broke that ban after a period of what? half a year?… I got a pair of Doc Marts… then I got a pair of Americaya strappy sandals… and today, I got myself a pair of red wedges (my very first in years) from Forever 21 (not a shoe brand, I know). The toe box is wide, it has good arch support (sorely lacking in most shoes) and I like that it has a fabric insole which would prevent my sweaty feet from slipping.
Plus it was only $45.
My self-imposed bans never really last, as you can see. Except for one – I've not been to a hair salon for haircuts and colouring jobs for 3 years. Heh heh!